MediaTek introduces the new Pentonic 700 TV chip: support 4K 144Hz, excellent energy efficiency
2 min read
Last night, MediaTek Global released the new Pentonic 700 TV chip. Now, MediaTek has published a document detailing the chip.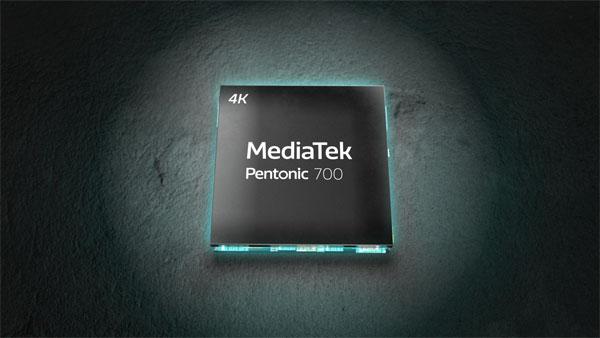 In terms of picture quality, Pentonic 700 has AI picture quality enhancement technology, supports Dolby Vision IQ with Precision Detail function, integrates 4K 120Hz motion compensation technology (MEMC), 4K 120Hz timing controller (TCON) and Game optimization technology. The Pentonic 700 integrates the MediaTek AI processor APU, supports MediaTek AI super resolution, AI-PQ Scene Recognition and AI-PQ Object Recognition technologies, providing image edge smoothing Processing and detail reconstruction functions.
    In terms of functionality, the Pentonic 700 can support the simultaneous display of multiple sources from local and the Internet in the form of picture-in-picture (PiP) or split-screen (PbP) on a single screen. This new technology can be used for home entertainment, where consumers can watch their favorite sporting events from different perspectives at the same time, or invite friends and family for video calls while enjoying the action. In the office, it can enhance the functionality of virtual meetings, allowing the TV to display different streaming content at the same time. display screen tft
    In terms of games, Pentonic 700 is suitable for 120Hz smart TVs and supports variable frame rate (VRR) technology up to 144Hz, helping TV manufacturers to tailor products for various game applications and providing players with a smooth and smooth gaming experience. The Pentonic 700 supports HDMI 2.1's Auto Low Latency Mode (ALLM), which reduces display latency and creates an immersive gaming environment for players with Dolby Atmos, Dolby Vision Gaming .
    MediaTek also pointed out that the chip uses a highly integrated design and has excellent energy efficiency. In addition, smart TV manufacturers can use the MediaTek Filogic Wi-Fi 6/6E /7 wireless connection solution to achieve high-speed network connection, play 4K video content more smoothly, and bring low-latency and stable connection to smart TVs.
    Key features of the Pentonic 700:
    · Supports 4K resolution display and supports variable frame rate technology up to 4K 144Hz in gaming applications.
    Dolby Vision IQ with Precision Detail improves picture detail and enhances image texture and depth.
    · Supports HDR10+ Adaptive technology to optimize viewing experience based on room lighting conditions.
    · AI-PQ Scene Recognition 2.0 (AI-PQ Scene Recognition 2.0) automatically optimizes image settings.
    AI-PQ Object Recognition 2.5 (AI-PQ Object Recognition 2.5), which enhances the depth of field effect with different sharpness, contrast and color between the foreground and background.
    · Built-in hardware video decoding engine, supports commonly used HEVC, AV1, AVS3 formats, and supports VVC (H.266) formats to meet the new needs of broadcast and streaming media providers.
    AI Super Resolution 2.0 (AI-SR 2.0), which provides image edge smoothing and detail reconstruction.
    · Support next-generation voice assistant functions and smart home device management.
    Smart TVs with Pentonic 700 are expected to be available in the fourth quarter of 2022.