MediaTek unveils Pentonic 700 chip for 4K 120Hz smart TVs
1 min read
 Last year, MediaTek released the world's first 7nm TV chip Pentonic 2000, which is the world's first smart TV SoC using TSMC's 7nm advanced process, supporting up to 8K 120Hz ultra-clear display.
Now, MediaTek has launched the Pentonic 700 chip for 4K 120Hz smart TVs.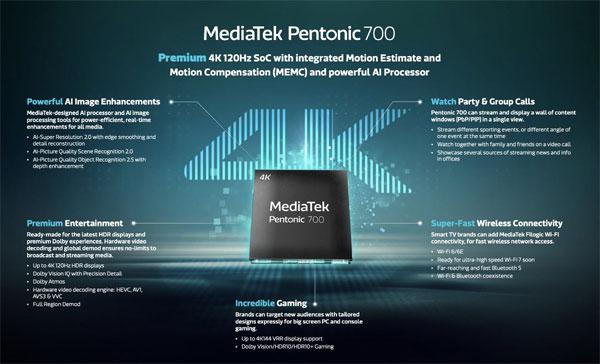 Officially, the Pentonic 700 chip is suitable for 4K 120Hz TVs. With AI-driven image quality enhancement, Dolby Vision IQ precise detail support, integrated 4K120 MEMC, and game optimization, the Pentonic 700 will enhance consumers' viewing experience in all aspects. display hmi screen
    The Pentonic 700's integrated AI Processing Unit (APU) supports MediaTek's AI-Super Resolution, AI-Picture Quality (AI-PQ) scene recognition and AI-PQ object recognition technologies for advanced edge smoothing and detail reconstruction. Smart TVs powered by Pentonic 700 can display content from different sources on the TV screen and support PBP and PIP picture-in-picture display with PQ enhancements, allowing users to watch sporting events and video chat with friends and family at the same time.
    In addition, the Pentonic 700, although designed for 120Hz smart TVs, also supports variable refresh rates up to 144Hz, supports HEVC, AV1 and AVS3 standards, as well as the latest VVC (H.266) standard for broadcasters and streaming providers the latest requirements of the business.
    Smart TVs powered by Pentonic 700 are expected to be released in the fourth quarter of 2022.